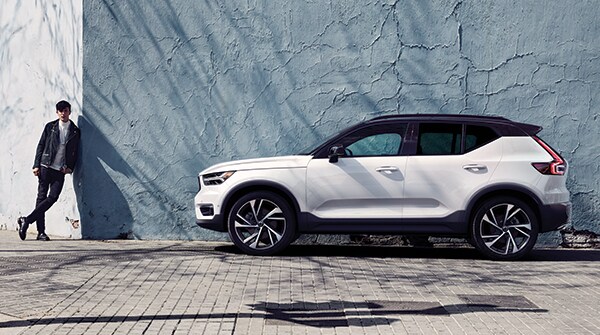 You're probably familiar with Volvo's five-passenger SUV, the XC60, and their larger three-row SUV, the XC90 but now there's a new kid on the block who's worth getting to know. We're talking about the all-new 2019 Volvo XC40. This is the smaller, less expensive SUV that Volvo has just recently added to its portfolio. If you love the Volvo name, but you're looking for something smaller, or perhaps more affordable, read on to learn why the XC40 is likely the car for you.
Safety
In this review, of course, we have to start with safety. Volvo built its brand, and stellar reputation on passenger safety and the new XC40 is no exception. Volvo's City Safety feature comes standard with every XC40 and can warn you if it senses an imminent collision by recognizing pedestrians, large animals, bicyclists, or other vehicles. And if you happen not to brake quick enough, it'll even apply the brakes for you.
There's also an optional rear cross-traffic alert system that is similar to Volvo's City Safety feature but this brakes if another car is about to hit your vehicle as you're backing up. Other safety features include automated parking, a semiautonomous Pilot Assist function, and headlights that move as you turn the steering wheel.
Convenience & Comfort
Safety isn't the only thing that matters when shopping for a new vehicle. You'll likely also want a comfortable ride that makes spending time in your car enjoyable. If you're looking at the new XC40, you'll get all of that and more. There is plenty of room in this small crossover giving the interior a much roomier feel that can comfortably accommodate most adults. There is also a panoramic sunroof that lets in an abundance of natural light and adds to the spacious feel.
The XC40 comes with 18-inch tires (19-inch is you upgrade to the R-Design trim) and a sportier suspension which makes this ride comfortable even on bumpy roads. The turbocharged four-cylinder engine comes with plenty of power making accelerating a breeze. If you're looking for even more control and confidence in your vehicle, consider upgrading to the R-Design which helps drivers make tight turns and handles like a dream.
Technology & Features
The all-new 2019 Volvo XC40 comes in three different trim levels: Momentum, R-Design, and Inscription. As we already covered, all XC40s come standard with advanced safety features, but all XC40s also come with some other luxurious features like leather upholstery, LED headlights, and Apple CarPlay and Android Auto.
If you upgrade to the R-Design, it's not going to cost you too much more but does add exterior styling enhancements and other more luxurious features. There are also several additional packages available as well as stand-alone features that you can add to make your new XC40 the perfect vehicle for you.
Pricing
Starting at $33,200